Tour by Mini Bus (2) - " natural history of Lesvos"
(Saint Paraskevi, Kalloni, Petrified Forest, Sigri. Eressos)
We depart from Mytilene at 10:00 in the morning. Our first destination is the traditional village of Saint Paraskevi. In the village there is the museum of industrial olive production of Lesvos, which holds and presents the evolution of the equipment which is used for the production of oil.
Later, we will visit the first digital art museum in Greece "Georgios Iakovidis" which is located in a mountainous village of Lesvos, called Hidira, the place where Georgios Iakovidis was born. The works of art which are presented in the museum concern all digital reproductions. The comparison with other works of art either of the same artist or his tutors, and at the same time with the combination of narration and graphics, the Digital Museum "becomes alive" by making them more familiar to the visitor.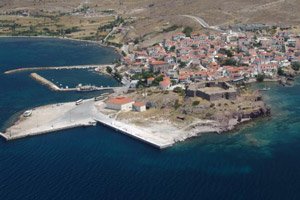 The next stop is the Petrified Forest which was created 20.000.000 years ago, after volcanic eruptions. In this region the visitor can see the largest trunk of a fir tree with length that overpasses the 20 metres, as well as many other large trunks of Sekoyia which arrive up to 4,5 metres high.
We go on to the National History Museum of Sigri. In the museum the most important fossils of the scientific research are exhibited. The seismic simulator which has been recently established, simulates the largest earthquakes in the human history. The paved alleys of Sigri, as well as the castle which was constructed in 1757 constitute the most important sightseeings.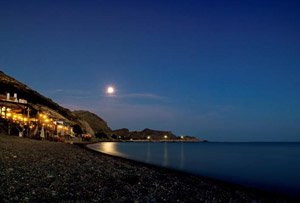 The next and the last stop is the village called Skala Eressos. Sappho, who is the most widely known lyrical poet in the worldwide history of poetry, was born in 630 B.C in Eressos, as well as Theofrastos, who is considered to be the father of herbal science. Every year in May and in September in Eressos, the International Women's Festival (lesbians) which is known worldwide takes place and it gathers many people from all over the world. We stop for lunch in a place of your choice.
Return in Mytilene and end of the excursion. Arrival time 20:00.
The excursion includes: Luxurious Mini-Bus with fuel included in the price and a professional driver, who provides the information of the excursion in English.
The excursion does not include: Food, drinks, tickets for the museums and the archaeological sites.
Price: 35€ per person. The excursion takes place only if the seats are filled.