Welcome to IGFA
Renting a car in the IGFA is an easy issue.
We have been working harder and harder since 1986 in the IGFA – Rent a car service to make rental process more easier. Benefit from the advantages provided by the best car rental service existed in Lesvos.
• Three offices in Lesvos (Mytilini, Eressos and Sigri)
• A wide range of products and services that meet your needs
• Rich variety of cars
The main reason laying behind the success of the IGFA – Rent a Car Service is its vision of to build up the best and the fastest growing company in the related field through continuous investment, using advanced technology and with its experienced staff.
THANKS FOR YOUR TRUST
Reservation Manager
PSOMAS IGNATIS
NEW CARS IN ALL CATEGORIES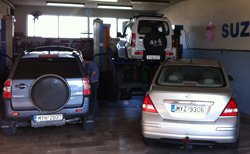 In our vehicle fleet, you will find only new cars from all categories. Known as a trusted enterprise, we provide an excellent care with the standards and qualities of large rental companies for our vehicle fleet . 24 hours roadside assistance is also provided at any time wherever you are. Staying you away from discomfort on your vacation is our main aim.
INSURANCE - ALL INCLUDED PRICE

Our company collaborates with the leading insurance companies of the field (Allianz, Executive Lease Brokers). We invest on your insurance and ensure that we will be next you anytime you need it. We guarantee that you won't face with undesired surprises.
EXPERIENCE SINCE 1986
Our company have been operating into the field of tourism and car rental since 1986 with its three offices ( Mytilini, Eressos, Sigri) located in the island of Lesvos. Our personal facilities, services, and being formal agency of SUZUKİ from 1975 proves who we are, whose trust we earned and what sort of things we can offer you. Our partners and customer portfolio are the best advertisement of us.
BECAUSE WE SPEAK YOUR LANGUAGE
IGFA's experienced staff on their fields guarantees to deliver your rental car on time at the location ( port, custom, hotel, airport) you requested and to be next to you for all your problems anytime you need. There will be no coincidences in your trip! We are always smiling, always willing and most importantly we speak your language (Greek, Turkish, English and Russian speaking drivers or guides).
YOUR RENTAL
Considering our years of experience and specialization in the field of car rental and our belief on trust between the company and customer, our company cordially would like to mention that you have right to demand us a perfect and memorable experience during your car rental from it's first to last minute.